Dingle Benners Hotel
52.14148

,

-10.26816
134US$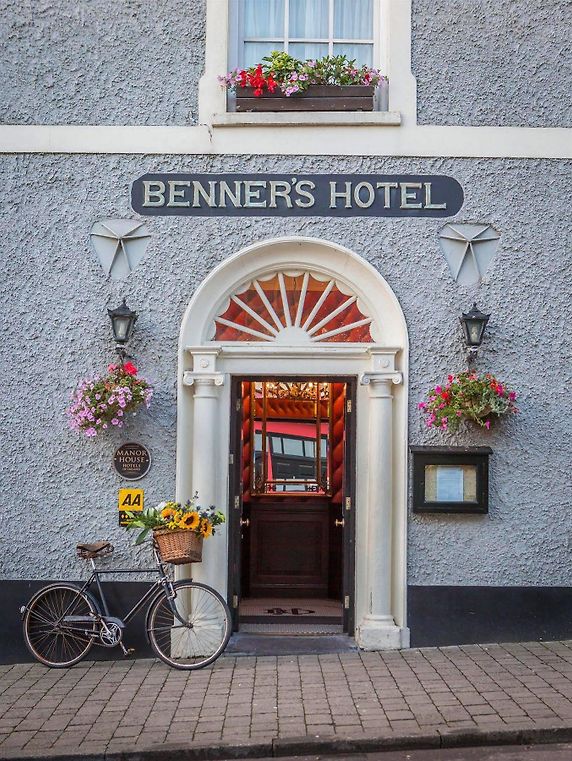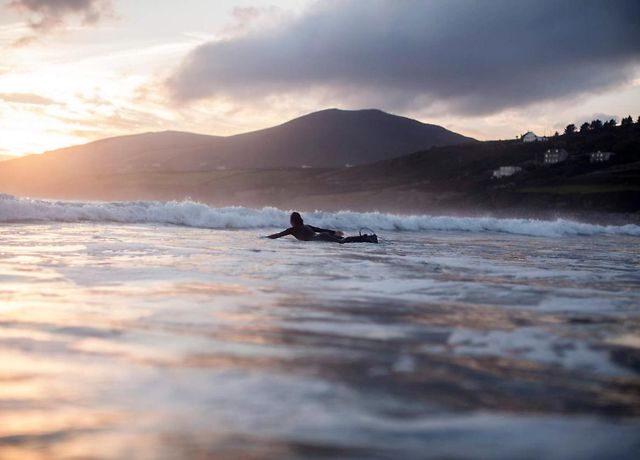 Highlights
Hotel Awards
According to guest reviews, the hotel has been rated as 
Use Badge
Address
Main Street
,
Dingle
,
Ireland
, Munster
Overview
Classic Dingle Benners Hotel is a 3-star property a 5-minute walk of Saint John's Well. Set close to Saint James' Anglican Church of Ireland, this hotel boasts Irish meals served at the onsite à la carte restaurant.
Location
This luxury hotel is located in the very heart of Dingle, a short walk from Harry Clarke Stained Glass Windows. 2 miles to this classic family accommodation there is Dingle Golf Centre. A 14-minute stroll will take you to Dingle Oceanworld Aquarium.
Dingle bus station is located 5 minutes away from Dingle Benners Hotel on foot.
Rooms
There are 52 spacious rooms at this property, some of them have a fireplace, and modern facilities like television and direct dial phone. There is a private bathroom with a tub and a separate toilet in some units. The luxurious bathrooms come with hairdryers.
Eat & Drink
The accommodation offers a full English breakfast daily. The lounge bar offers a selection of tea and coffee. Pantri Cafe serves a good range of European and Irish food and lies in 250 feet away.
Leisure & Business
This property offers mountain biking, hiking and horse riding as well as cars rental services. Guests can work out in a gym.
Internet
Wireless internet is available in the entire hotel for free.
Guest Parking
Private parking is possible on site for free.
Number of rooms:   52.
Facilities
Most popular facilities
Food/ Drinks
Bar/ Lounge area
Restaurant
General
Wi-Fi
Parking
Baggage storage
24-hour services
Food/ Drinks
Laundry
Elevator
Sports activities
Dining
Breakfast
Restaurant
Bar/ Lounge area
Room features
Air conditioning
Heating
Ironing facilities
Good to know
Check-in
from 16:00-23:59
FREE
Check-out
until 12 pm
FREE
Children & extra beds
There are no cribs provided in a room. 
Pets
Pets are not allowed.
Rooms and availability

Bed options:

Sleeping arrangements for 3 persons

Max:

3 persons

Bed options:

2 Single beds or 1 Double bed

2 Single beds

Max:

2 persons
Sea view

Shower

Non-smoking

Bathtub

Balcony

Bed options:

2 Single beds or 1 Double bed

2 Single beds

Max:

2 persons
Location
Main Street
,
Dingle
,
Ireland
, Munster
City landmarks
Nearby
Restaurants
Aquarium
Dingle Oceanworld Aquarium
3700 ft
R559
Fahan BeeHive Huts
3800 ft
Farranredmond
Dingle Whiskey Distillery
1.0 mi
The Wood
Ceardlann Craft Village
3800 ft
Store
Holden Leathergoods
1.6 mi
Church
Saint James' Church of Ireland
100 ft
Gallery
The Carol Cronin Gallery
700 ft
48 Green Street D\u00EDseart Institute of Irish Spirituality and Culture
Harry Clarke Stained Glass Windows
1200 ft
Green Street
The Dillon Gallery Paintings by Honora O'Neill
700 ft
Gallery
Greenlane Gallery
1200 ft
DingleIreland
St. Brendan's House
700 ft
Church
Saint Mary's Church
1600 ft
6 Slea Head Dr
Fungi the Dingle Dolphin
700 ft
46 Green St
St Mary's Catholic Church
700 ft
Spiddal Craft Village & Cafe
Geraldine O'Rourke
700 ft
Store
Dingle Surf Shop & School
700 ft
The Mall
Simple Pleasures Galleria
700 ft
Restaurant
Murphy's Ice Cream
1500 ft
Restaurant
Thyme Out Cafe & Delicatessen
700 ft
Restaurant
Chewy & the Beast
1000 ft
Restaurant
Kool Scoops of Dingle
1200 ft
Restaurant
Courtney's Bakery
1600 ft
Restaurant
Strand House Cafe
1300 ft
You can book a shuttle, once your reservation is complete.
Reviews
Mary

We liked it, it was GOAT! Standard triple room had everything we needed. Also, free Wi-Fi was provided. The meals where fab.

James

Nice place for staying in the centre of Dingle. St mary's church was just a few steps away from the hotel. It takes 5 mins to get to a bus station.

Joshua

No complaints. Food is great. It was centrally located.

missing

Very friendly welcome. Central location. Nice room. Perfect as a stopover on our tour of Ireland.

missing

My new favourite hotel on the west coast of Ireland! such a nice room, such a nice reception, such a great breakfast and... my favorite pub diagonally across the street. Perfect! Thanks for the wonderful weekend in your house!

missing

private parking, friendly staff, large room, bathroom with window, comfortable king size bed, very good breakfast, also with fresh fruits

depending on the room location it can be a bit loud - party noises and especially the loudly slamming corridor swing doors, it is better not to see the courtyard, which is probably why the windows are also made of frosted glass

missing

Friendly service. Large room, good mattress, bathtub. Service personnel friendly and competent.

missing

We stayed at the top of the hotel, in the attic....beautiful views and spacious quarters...the penthouse! Location of the hotel is in the center of most activities and a bank next door.

No elevator to the 4th floor...carried the luggage and ourselves....new exercise program.

missing

The room was very comfortable and well furnished. Breakfast was very good.The location was good with easy access to the town. I lost my wallet at the hotel and did not discover this until I was in Kinsale. Amie from the front desk took it all the way to Kenmare which she was visiting and I got it from her then. I was very grateful to her for taking the trouble, and also to the hotel housekeeping staff who found it for their honesty.

The location for dinner (the bar) and the range of the menu was not great. The rate was slightly higher than other hotels in the area which we stayed in.

missing

The staff were very friendly and helpful and the Hotel was very clean and comfortable and location was good right in the town of Dingle

missing

I loved this hotel - the staff was the most helpful and kind staff I have ever encountered, the room was huge, the food delicious, an easy walk to the bus as we were using public transport, quiet and peacefu.

missing

Friendly staff , very amenable to the customer needs. Check in staff helpful ref iron etc

After hours food selection limited but delivered with friendly attitude

missing

The staff were extremely accommodating in handling some last minute changes of our plans.

missing

The comfort, location and the food

With such good food its a pity they do not have a restaurant in the evenings as it is only bar food which is exellent but deserves a better setting.however the town has many other good restaurants all within walking distance

missing

The relaxed and easy going warm atmosphere and the polite efficient service.
FAQ
What is the nearest airport to Dingle Benners Hotel?
Dingle Benners Hotel lies within 38 miles of Kerry airport.
Does Dingle Benners Hotel serve breakfast?
Yes, Dingle Benners Hotel offers an cooked-to-order breakfast.
What is the earliest I can check-in at Dingle Benners Hotel?
At Dingle Benners Hotel you can check in from 4 PM till 11.59 PM on your day of arrival.
How far is Dingle Benners Hotel from the city center?
The city center is located 5 minutes' walk away from Dingle Benners Hotel.
Are there any cleaning services provided at Dingle Benners Hotel?
Yes, Dingle Benners Hotel provides dry cleaning service and housekeeping service.
Are there any historical sites close to Dingle Benners Hotel?
Dingle Oceanworld Aquarium is worth visiting, plus it is set 0.7 miles away from Dingle Benners Hotel.
What leisure facilities are provided at Dingle Benners?
You can enjoy a fireplace, a bar and a satellite TV available in Dingle Benners.
Where is Dingle Benners Hotel positioned?
Dingle Benners Hotel is placed in the very heart of the city, a mere 0.7 miles to Fahan BeeHive Huts.
Can I have lunch or dinner next to Dingle Benners Hotel?
Yes, you can enjoy your lunch or dinner at Pantri Cafe and Doyle's Seafood Restaurant that lie about 350 feet from Dingle Benners Hotel.
How much does a room at Dingle Benners cost?
The price for a room in Dingle Benners starts at €230.
What sport activities are arranged at Dingle Benners Hotel?
At Dingle Benners Hotel guests can enjoy mountain biking, hiking and horse riding that the hotel offers for active guests.